UPDATE: This issue has now been resolved and missing mux(s) i.e. 474/730MHz have been restored. Services that had been dropped or moved are now back on their respective channels. Here is a full listing of Free-To-Air TV channels available in Kampala, Uganda: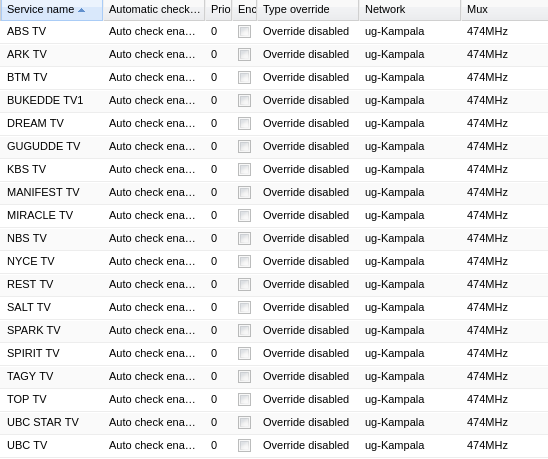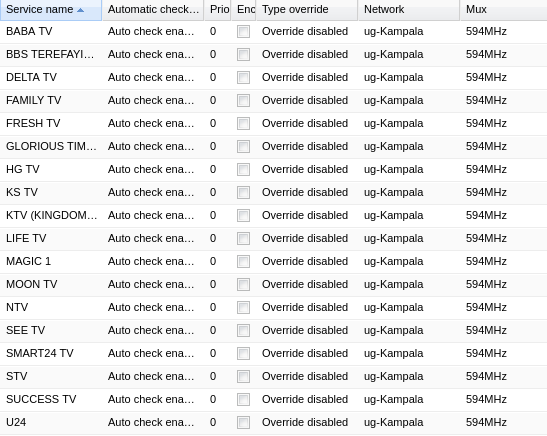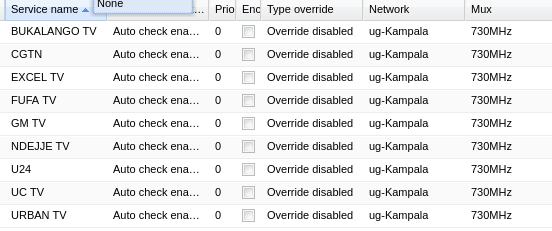 Disruptions in Free-To-Air digital TV:
If you live in Uganda, then over the past week you may or may not have noticed some big changes in the TV channel line up for Free-To-Air users in and around Kampala.
Following the TV digital migration of 2015, TV broadcasters were spread across three multiplexes i.e. 494, 730, and 594 MHz with each carrying up to 12 DVB-T2 channels.
However, due to recent technical issues faced by the transmission entity, only one(1) multiplex of 594 MHz is in use and some channels from non-working multiplexes have been moved to it, leading to a crowded mux and a total of only 21 working Free-To-Air channels.
You will notice that TV stations like NBS TV that were on the 474MHz have been moved to the only working multiplex of 594MHz. However, other channels like BBS Terefayina, Miracle TV, KS TV are no longer available. Attached below is a list of currently available Free-To-Air TV channels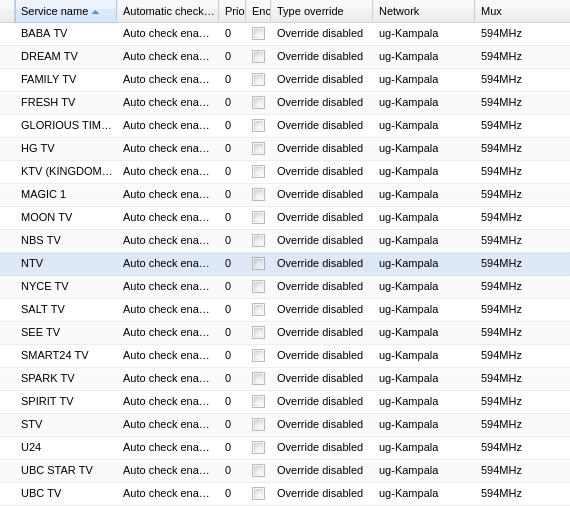 Given, the nature in which the TV digital migration was implemented in Uganda and the majority of TV consumers in Uganda having opted to subscribe to Pay-TV providers like DSTV and Star times, I suspect many users have not noticed these changes
There's been very little communication from the relevant bodies on what happened and when the technical issues would be resolved. However, the Executive Director of Uganda Communications Commission (UCC), Irene Kaggwa Sewankambo tweeted as follows: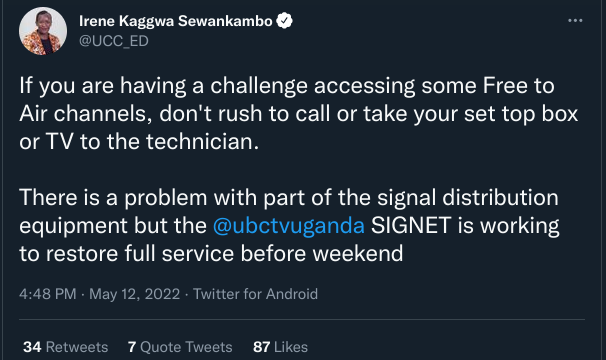 So now you know. Its not you, and you do not need to adjust your Antenna!
Until the issues are resolved, simply re-scan your DVB-T2 based set top box or TV with in-built tuner. You will get up to 21 selected Free-Air-TV channels. Per chance all your favourite stations are on the list of currently available Free-To-Air TV channels
For more updates like these, follow me at https://twitter.com/jzikusooka